We all get this overwhelming urge to make our passions a reality.
We all develop passions and get this overwhelming urge to make that passion a reality. In 1969, in a small town of Campbellsville, KY, Ronnie Hord and Wayne Wells were able to make their passion become a reality. The two men created H+W Sports Shop, a sporting goods store that began its traction by selling Chuck Taylors and softballs.
A few years later, Wells decided to sell out to Hord, leaving him full ownership. Ronnie kept the name H+W Sport Shop. He began to expand by selling a variety of sporting goods not only to store customers but to local schools all over Kentucky. Ronnie quickly expanded his staff by bringing on Rick Wilson as his main salesman. Hord and Wilson paved the way for more staff by bringing on other salesmen and production members. The growth of H+W Sport Shop allowed a small-town business dream to become a reality as they achieved more school accounts and paved a legacy of having the best customer service.
In 2014, Ronnie decided it was time to pass the torch. Instead of selling to a larger corporation, Ronnie decided to sell the family business to his youngest son, Shaun. In 2016 H+W was struck with tragedy when their store front was struck by lightning causing a horrific fire and complete loss. However, with Shaun's vision, H+W was able to quickly move into a temporary workspace and continue fulfilling team orders.
In the summer of 2018, H+W moved into its completed storefront on Main Street in Campbellsville, Ky where it is currently located. Powering through major opposition with big corporate companies and fire devastation, H+W was still able to continue growing as one of the largest small business sports dealers in Kentucky. H+W is also one of the largest team dealers with Adidas in the nation.
Today with Shaun's leadership and vision, H+W Sports has expanded to 2 locations: Campbellsville Kentucky and Bowling Green Kentucky. And after acquiring Dukes Sporting Goods, (a local sporting goods store located in Elizabethtown, Ky), the current H+W Dukes Sports was established. H+W Dukes Sports has continued to grow while maintaining the same core values the company was founded on. The mission of H+W Dukes Sports is to provide the best value and customer experience through unrivaled service and growing relationships.
Now known as H+W Dukes Sports, we service over 100+ schools in Kentucky, Ohio, and Indiana with an elite TEAM of salesmen and staff. H+W Dukes Sports had perfected the art of customer service by providing the most intentional care in Team Sales to schools all over and rapidly growing into the corporate sales world.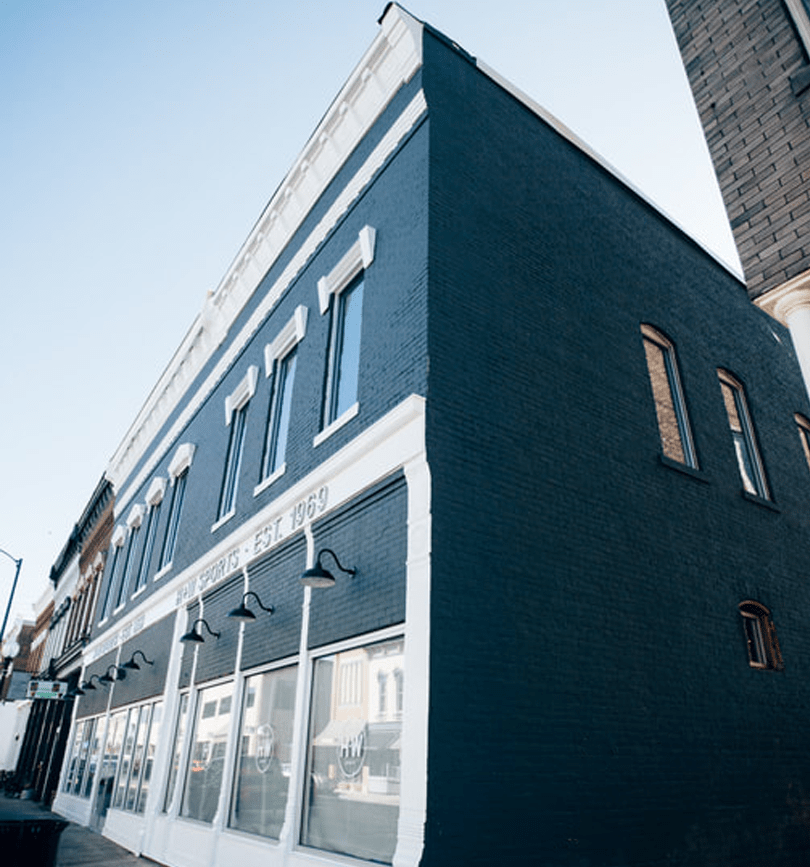 H+W SPORTS | MAIN STREET CAMPBELLSVILLE
Owner of H+W Dukes Sports
Founder of H+W Dukes Sports
Social Media & E-Commerce Coordinator
What Our Customers Have to Say
"When you do business with H+W, the one thing I can guarantee you will get is excellent customer service. In addition to selling great products at competitive prices, in the end it all comes down to H+W's belief in doing whatever is necessary to meet the needs of the customer and ultimately the student athletes we all serve."

"I have enjoyed working with the staff at H+W during my seventeen years at Campbellsville University. They have always been very attentive to our coaches and go out of their way to make sure they have the items needed for their programs. I appreciate the way they helped facilitate our agreement with Adidas and look forward to working with H+W for many years in the future.