Celebrating 50 Years:
Our Story
Adidas has featured numerous slogans across the years pointing to the relentless drive and dedication required to make a brand successful.
The same can be said of H+W Sports. We have a legacy of strong-standing service to schools and businesses alike, one that can be traced back to our beginnings in 1969. Located in central Kentucky, we provide quality sporting goods and apparel for teams, small businesses, corporations, and more.
From the loss of our original building in 2016 to our new location in a renovated section of Campbellsville's Main Street, we have continued in our relentless drive for continued growth – all while serving our clients in the most professional and timely manner.
Stronger than ever, we are pushing on through faith, love, and in the support of an outstanding community and customer base.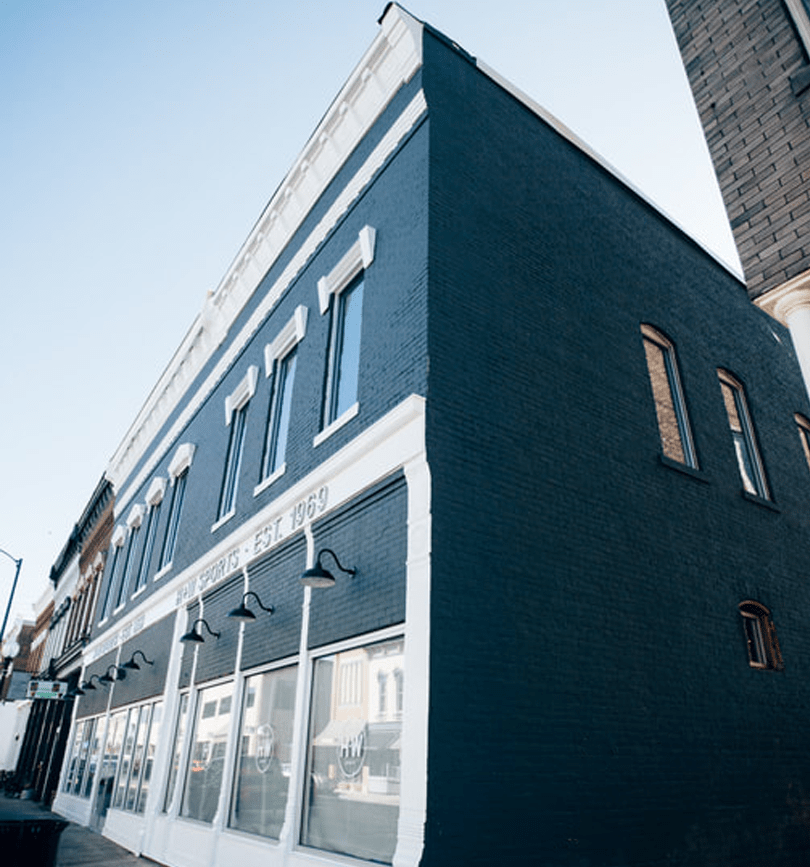 H+W SPORTS | MAIN STREET CAMPBELLSVILLE
Shaun is a Campbellsville native and an avid Dodgers fan. With over 16 years experience, he now leads and oversees the H+W Sports team.
Ronnie is one of the original co-founders of H+W Sports and continues to contribute to its 50 year legacy.
Rick is also a Campbellsville native and continues to build upon his 44 years of team sales experience with H+W Sports.
Aaron has been a part of the H+W Sports team for 8 years and continues to support teams throughout central and southern Kentucky and abroad.
Phil is one of the newest additions to the H+W Sports team, but has been an avid support of local athletic programs in Campbellsville, Kentucky.
Kelley is a Campbellsville University graduate and supports H+W Sports corporate accounts in their apparel and custom awards needs.
Production + CU Spirit Shop
Jonathan helps manage the H+W Sports storefront on, as well as the CU Spirit Shop at this alma matter,
Campbellsville University.
Like much of our team, Madison is an avid contributor to local athletic programs and aids our Team Sales reps in production and order fulfillment.
Melissa joined H+W Sports in 2019 and serves alongside our Team Sales department to ensure professional and quality service.
Janee is a Campbellsville native and avid Kentucky fan who helps the H+W Sports team in ensuring orders arrive to our customers in a timely manner.
Betty has been a part of the H+W Sports family since 2018 and has brought her embroidery experience to help us create unique, customized apparel.
Lynn is an avid Kentucky sports fan and joined the H+W Sports team with over 20 years bookkeeping experience.
What Our Customers Have to Say
"When you do business with H+W, the one thing I can guarantee you will get is excellent customer service. In addition to selling great products at competitive prices, in the end it all comes down to H+W's belief in doing whatever is necessary to meet the needs of the customer and ultimately the student athletes we all serve."

"I've worked with H+W for almost 30 years. The relationships built over the years have been great, and is a reason we continue to go back. Their attention to detail, caring service and desire to make the customer happy is the reason they're one of the top sporting goods companies in the state. They care about you and your program, that's important to our program!"
"I have enjoyed working with the staff at H+W during my seventeen years at Campbellsville University. They have always been very attentive to our coaches and go out of their way to make sure they have the items needed for their programs. I appreciate the way they helped facilitate our agreement with Adidas and look forward to working with H+W for many years in the future.