We all get this overwhelming urge to make our passions a reality.
We all develop passions and get this overwhelming urge to make that passion a reality. In 1969, in a small town of Campbellsville, KY, Ronnie Hord and Wayne Wells were able to make their passion become a reality. The two men created H+W Sports Shop, a sporting goods store that began its traction by selling Chuck Taylors and softballs.
A few years later, Wells decided to sell out to Hord, leaving him full ownership. Ronnie kept the name H+W Sport Shop. He began to expand by selling a variety of sporting goods not only to store customers but to local schools all over Kentucky. Ronnie quickly expanded his staff by bringing on Rick Wilson as his main salesman. Hord and Wilson paved the way for more staff by bringing on other salesmen and production members. The growth of H+W Sport Shop allowed a small-town business dream to become a reality as they achieved more school accounts and paved a legacy of having the best customer service.
In 2014, Ronnie decided it was time to pass the torch. Instead of selling to a larger corporation, Ronnie decided to sell the family business to his youngest son, Shaun. In 2016 H+W was struck with tragedy when their store front was struck by lightning causing a horrific fire and complete loss. However, with Shaun's vision, H+W was able to quickly move into a temporary workspace and continue fulfilling team orders.
In the summer of 2018, H+W moved into its completed storefront on Main Street in Campbellsville, Ky where it is currently located. Powering through major opposition with big corporate companies and fire devastation, H+W was still able to continue growing as one of the largest small business sports dealers in Kentucky. H+W is also one of the largest team dealers with Adidas in the nation.
Now known as H+W Sports, we service over 100+ schools in Kentucky, Ohio, and Indiana with an elite TEAM of salesmen and staff. H+W Sports had perfected the art of customer service by providing the most intentional care in Team Sales to schools all over and rapidly growing into the corporate sales world.
Today with Shaun's leadership and vision, H+W Sports has expanded to 3 locations after acquiring Dukes Sporting Goods, (a local sporting goods store located in Elizabethtown, Ky and Bowling Green, KY) establishing the new H+W Dukes Sports. H+W has continued to grow while maintaining the same core values the company was founded on. H+W Dukes Sports mission is to provide the best value and customer experience through unrivaled service and growing relationships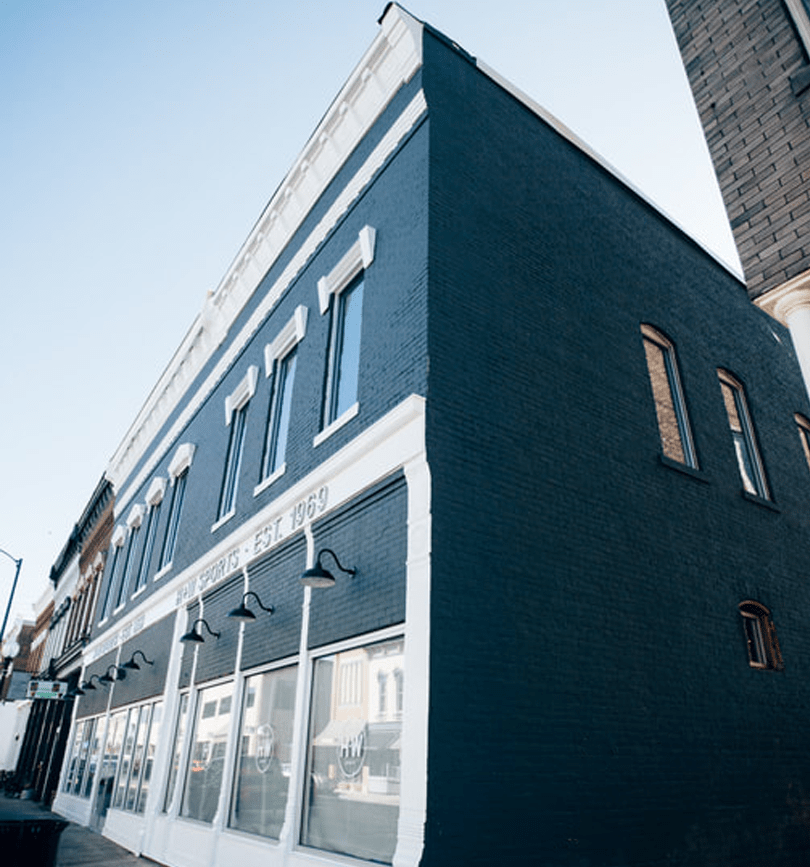 H+W SPORTS | MAIN STREET CAMPBELLSVILLE
Shaun is a Campbellsville native and an avid Dodgers fan. With over 16 years experience, he now leads and oversees the H+W Sports team.
Ronnie is one of the original co-founders of H+W Sports and continues to contribute to its 50 year legacy.
Rick is also a Campbellsville native and continues to build upon his 44 years of team sales experience with H+W Sports.
Aaron has been a part of the H+W Sports team for 8 years and continues to support teams throughout central and southern Kentucky and abroad.
Phil is one of the newest additions to the H+W Sports team, but has been an avid support of local athletic programs in Campbellsville, Kentucky.
Chase is a Taylor County native, graduating from TCHS in 2014. Starting with us in 2020, he is now part of our sales team!
Tammy joined our team with years of retail experience and is here to help create an enjoyable experience at our Campbellsville location!
Melissa joined H+W Sports in 2019 and serves alongside our Team Sales department to ensure professional and quality service.
Missy is a Green Co. native who has a great work ethic that has been instrumental in our team's success!
Betty has been a part of the H+W Sports family since 2018 and has brought her embroidery experience to help us create unique, customized apparel.
Coming from Versailles, Kentucky, Lara loves Kentucky Basketball and Football.​
Vickie is a recent addition to the H+W family, helping our production team in order to give our customers a great experience.
Debra is one of our newest additions and loves working in the friendly atmosphere here at H+W!
Tammy is also a recent addition to the H+W team and helps excel our embroidery production.
Tammy is also a recent addition to the H+W team and helps excel our embroidery production.
Janee is a Campbellsville native and avid Kentucky fan who helps the H+W Sports team in ensuring orders arrive to our customers in a timely manner.​
Tony has been with Dukes for over 42 years and leads the areas sales team.
Dale has been part of the Dukes sales team for over 39 years.
Nick has cared for local team needs for over 20 years with Dukes Sporting Goods.
Bobby has been a part of our inside sales team for over 15 years.
Scott aids our inside sales team and has been with Dukes for over 18 years.
Burl ensure that your apparel looks great with over 15 years screen printing experience.
Mary oversees all embroidery projects here at Dukes and has been with us for 25 years.
Daniel has been handling your teams artwork needs for over 7 years with Dukes.
Alecia has been with Dukes Sporting Goods for over 9 years!
Greg is a graduate of Warren Central and helps oversee the many quality services we provide at our Bowling Green location!
Josh Floyd is also a Warren Central grad who recently joined our team. Expect to see Josh aiding your school in the months to come!
Nadera helps us produce quality sewn products - perfect to show off your school pride or to help establish your business' brand!
Nadera helps us produce quality sewn products - perfect to show off your school pride or to help establish your business' brand!
What Our Customers Have to Say
"When you do business with H+W, the one thing I can guarantee you will get is excellent customer service. In addition to selling great products at competitive prices, in the end it all comes down to H+W's belief in doing whatever is necessary to meet the needs of the customer and ultimately the student athletes we all serve."

"I have enjoyed working with the staff at H+W during my seventeen years at Campbellsville University. They have always been very attentive to our coaches and go out of their way to make sure they have the items needed for their programs. I appreciate the way they helped facilitate our agreement with Adidas and look forward to working with H+W for many years in the future.